About Us
A Perfect Event can Dress / Style your venue with as much or as little as you require. We are based in Hull cover the whole of Yorkshire. We offer either a full dressing service and gear each event to your ideas, requirements and budget or you can hire individual items and set them up yourself.
We build on your ideas so nothing is left to chance. We cover Charity Events, Award Ceremonies, Corporate and private events. We have been venue stylysts for 15 years.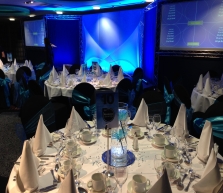 With many years experience Venue Styling, we bring together chair coverings, draping, star-lit backdrops, table centres and decorative lighting that give the correct ambience for any event.

For unique events such as themed parties, proms and presentations, we can design and supply props and unique elements such as fabric, flowers, crystals and bespoke stands.

If you want your event to be perfect, then contact us for a free no-obligation quote and you will receive, excellence and quality.
HDM Business Awards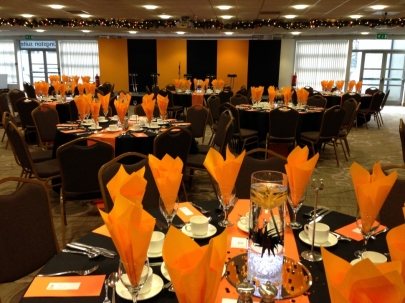 Hull Tigers Trust Charity Event
We along with a team of professional and dedicated staff, have an eye for detail and don't leave the event until everything is perfect, down to the tinest detail. First impressions count and we will ensure your event is the best it can be and more within your budget. We build on your ideas and will advise on what you can save money on without losing the 'wow factor'